Solar RoofBlaster for Conex Shipping Containers
Ventilation Products for Shipping Containers with 3.5" or 6.5" Ribs
Solar RoofBlaster for Conex Containers (3W solar panels)
Fan size: 80mm 35.2cfm fan
Panel size: 3W solar panel
Colors: Galvanized, White
Rib Size on Container: 3.5" & 6.5"
Solar Mega RoofBlaster for Conex Containers (5W solar panels)
Fan size: 120mm 96cfm fan
Panel size: 5W solar panel
Colors: Galvanized, White
Rib Size on Container: 3.5" & 6.5"
Solar Mega RoofBlaster for Conex (5W ADJUSTABLE solar panel)
Fan Size: 120mm 96cfm fan
Panel Size: 5W solar panel
Colors: Galvanized, White
Rib Size of Container: 3.5" & 6.5"

MSRP: $314.99
ON SALE NOW

PLEASE NOTE:
If you plan to install this Adjustable RoofBlaster on the SIDE of your container, PLEASE CALL US FIRST BEFORE ORDERING so we can talk to you about the modifications that will be needed in order for it to fit on much taller ribs.
2.5" Intake Vents for Shipping Containers
Remember that uniform air movement is the key to good ventilation. You need a balance of intake vents and exhaust vents to make any ventilation system work well. These 2.5" intake vents are the ones we recommend you install on your shipping container near the floor so air movement will come in low and help push the hot air out of the exhaust vents at the top of your shipping container.

Price for a Set of 4: $20
BEST DEAL: For every two Conex Solar Blaster products (RoofBlasters or LightBlasters for Conex containers) purchased, you'll receive a set of 4 intake vents for FREE. Must be purchased together in one order. Add it to your cart BEFORE checking out. Your receipt will only show 1 set of 4, but we'll add the correct amount when packing your shipment.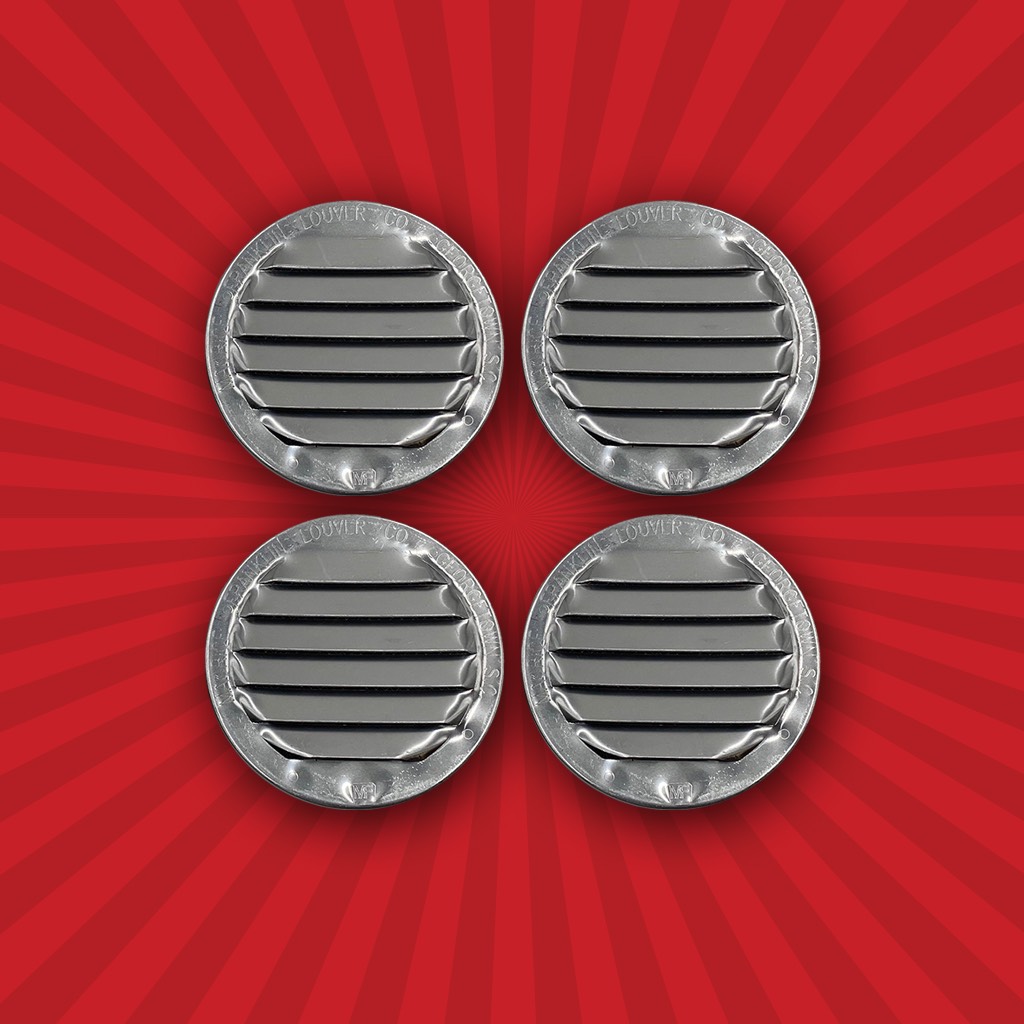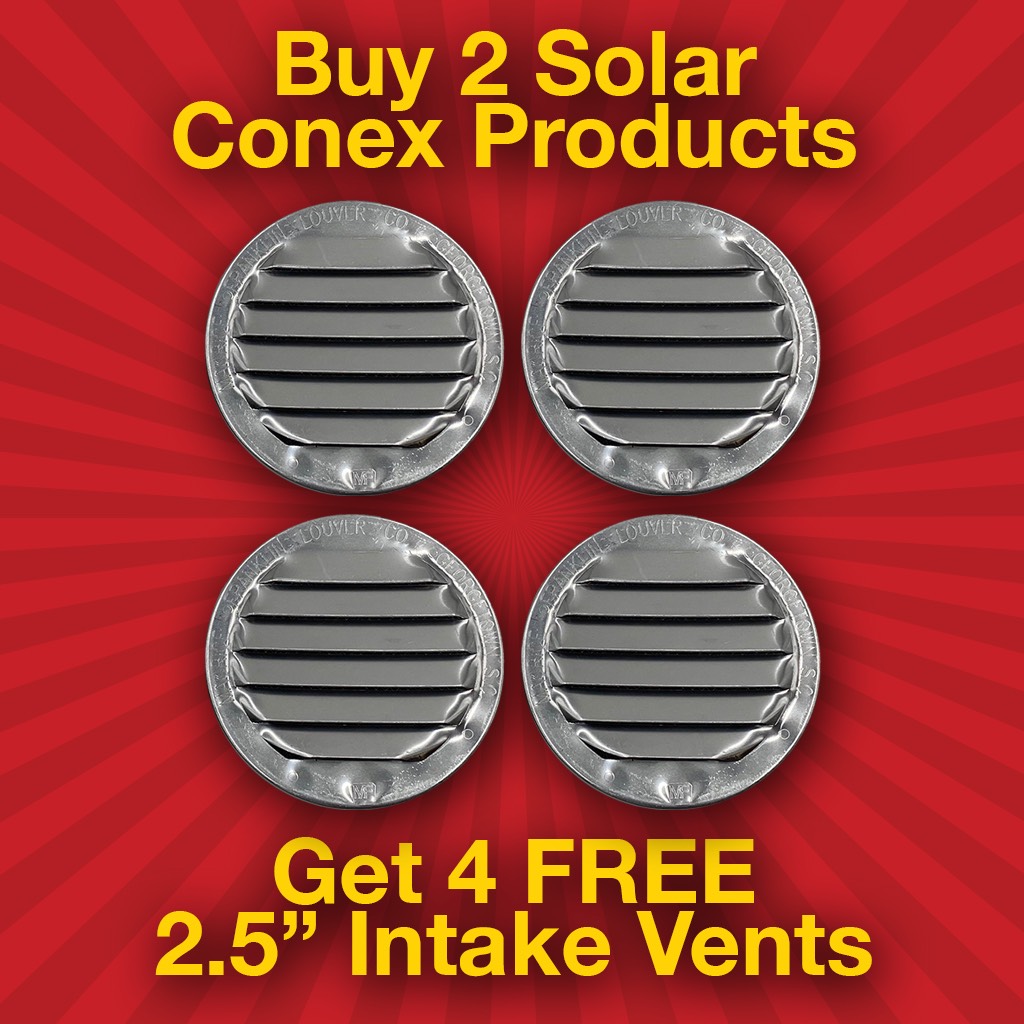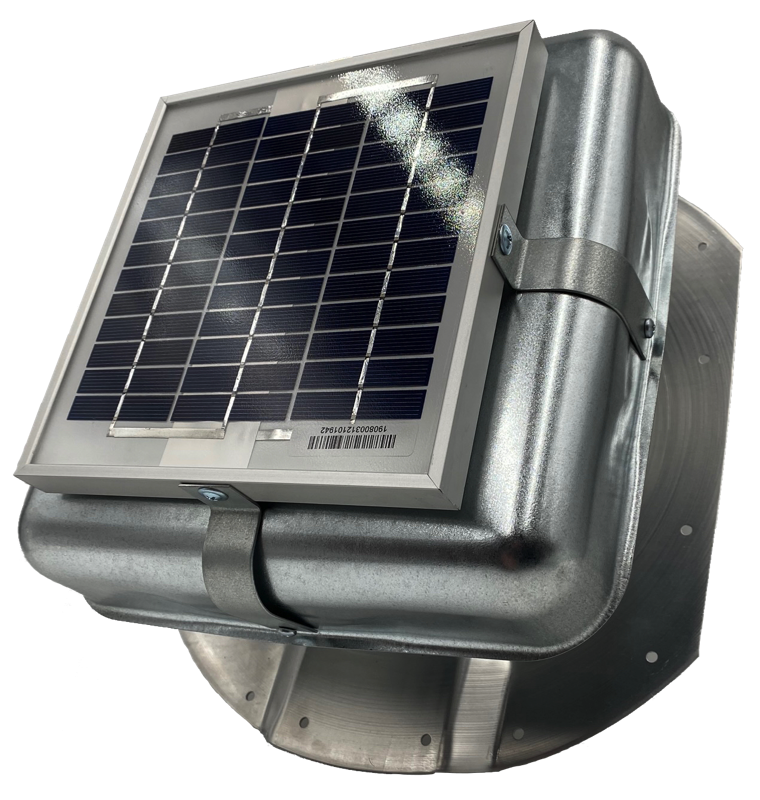 Solar RoofBlaster™ NOW available for Conex Shipping Containers!
That's correct. We have taken our very popular Solar RoofBlaster vent/fan unit and designed a special form-fitting flashing that will sit flush on top of a Conex® brand shipping container! So we now offer not only a
solar tube lighting solution for your Conex® shipping container
, but we also provide a ventilation solution.
Comes in two sizes, two colors, two rib sizes, and adjustable or not:
• 80mm fan/3 W solar panel or 120mm fan/5W solar panel
• Galvanized or White
• 3.5" ribs or 6.5" ribs
• Adjustable or not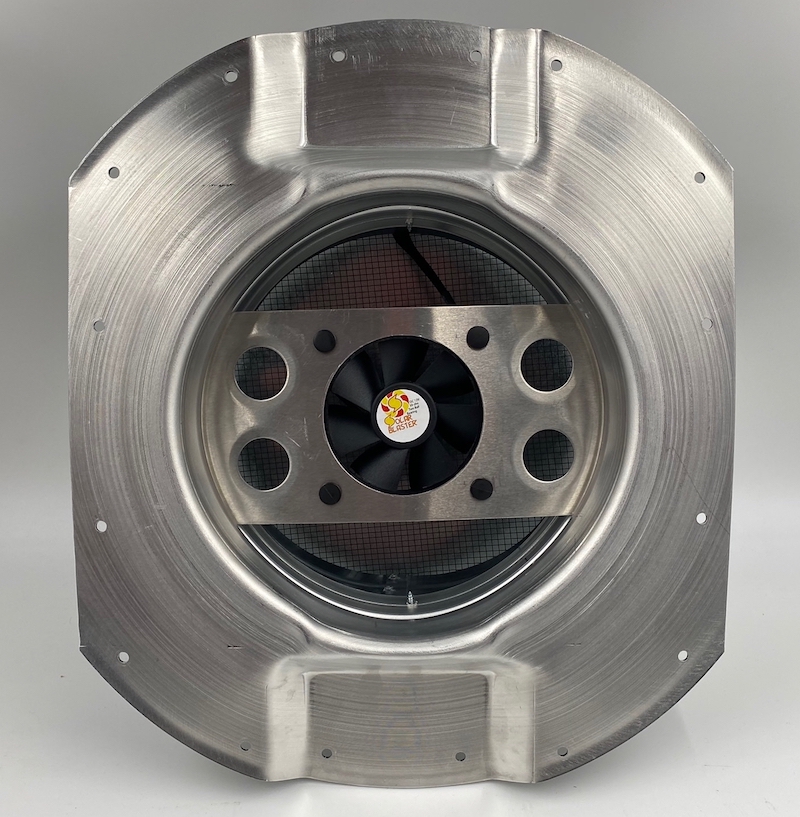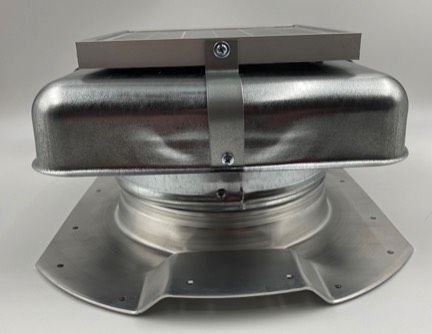 Ventilation is Key for Steel Shipping Containers!

If you plan to store equipment you don't want to get rusted or damaged due to moisture and heat inside your steel shipping container, you need to ventilate your container sufficiently. We recommend 1-2 vents for every 20' of container. Remember, that uniform air movement throughout your entire container is important. You will need intake vents down low as well for fresh air to enter your container so the hotter air rises and exhausts out of the vent on your container's roof.
NEW Solar Mega RoofBlaster for Conex Shipping Containers

We have designed a new ventilation solution for Conex shipping containers that is built in the same vent but has a larger, more powerful fan (120mm; 96cfm) and 5W solar panel.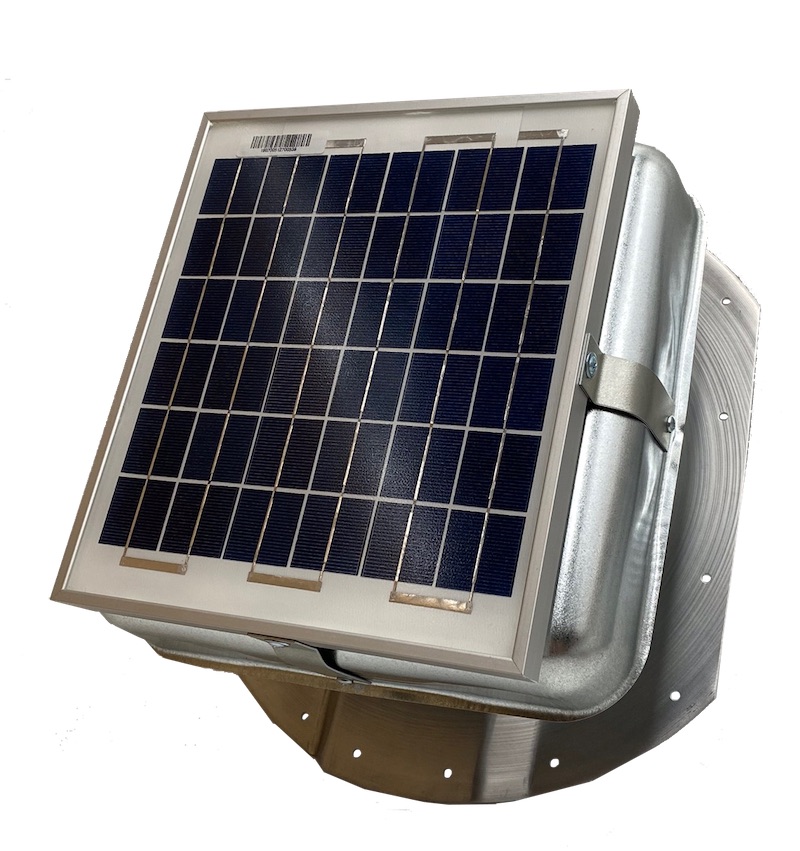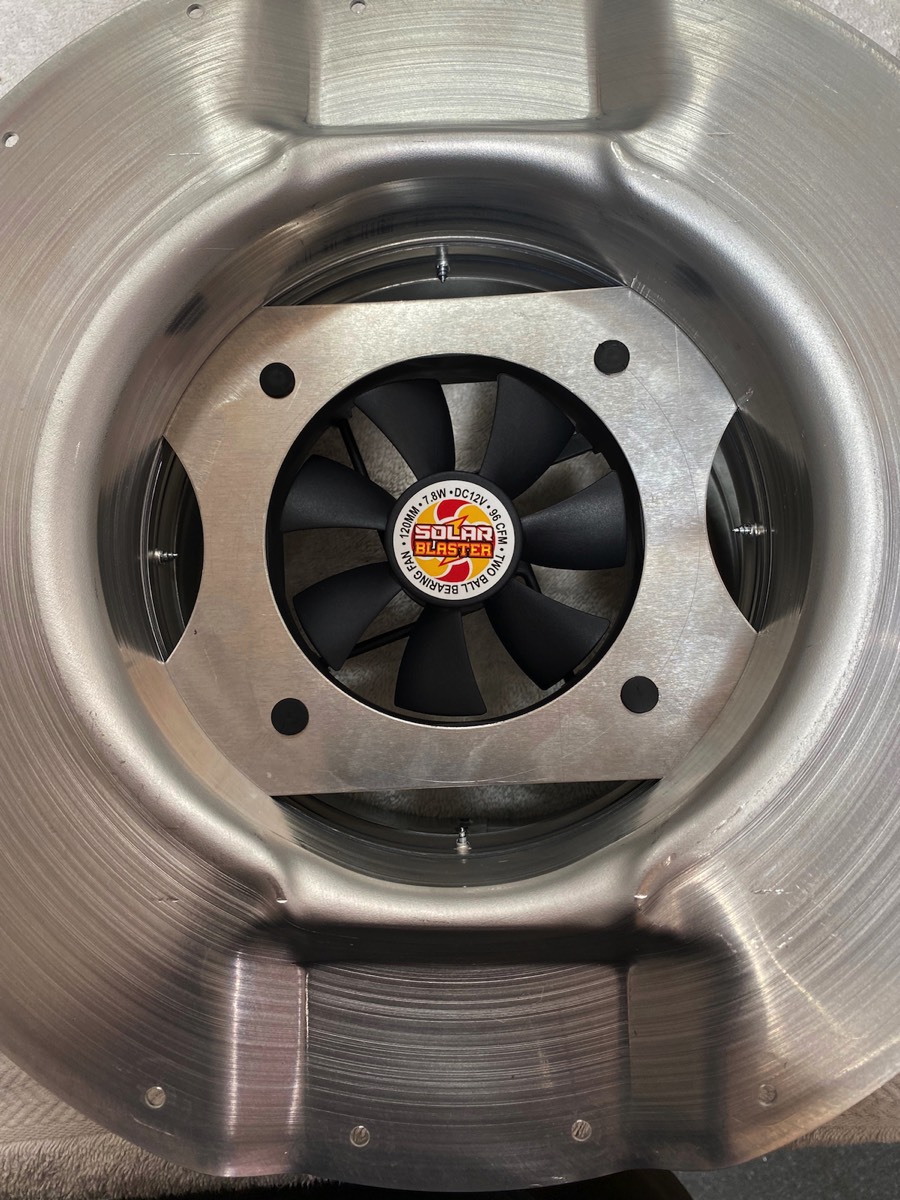 Ventilating Conex® Shipping Containers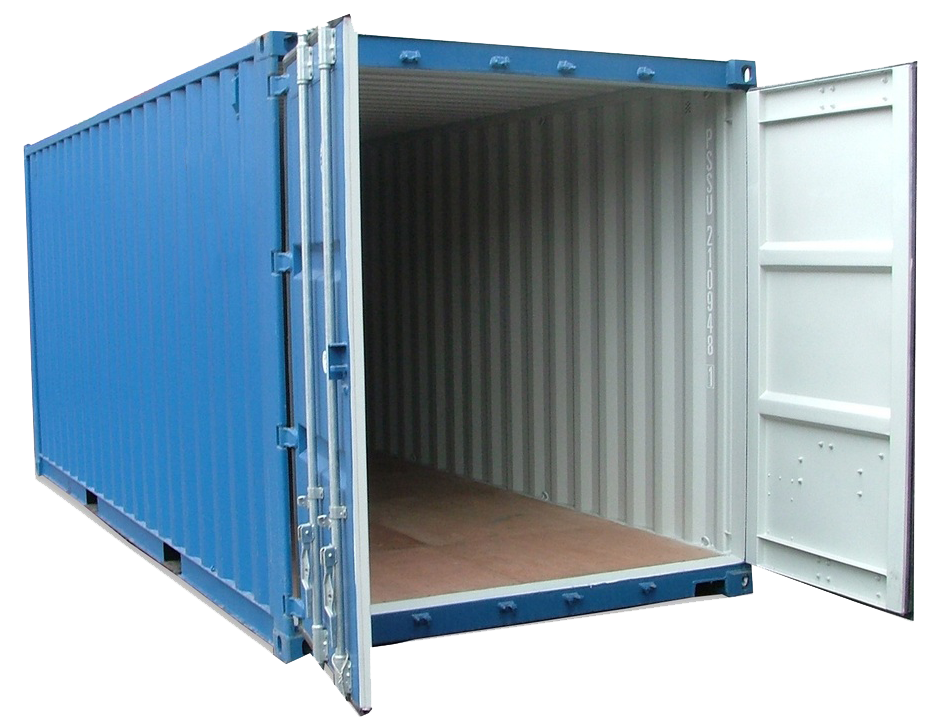 Container Product Brochure
Solar-powered fan vent that ventilates a Conex® shipping container

Helps remove hot, moist air faster than a passive vent alone

Multiple intake and outtake vents helps promotes uniform air movement throughout the vented space

Moving air helps minimize mold/mildew growth

Improves and cools your work space by removing the hot, oven-like temperatures in a container

Improves the air quality in containers by promoting fresh air movement

Helps to prevent tools from rusting in containers because moist air is being removed

Easy installation (see installation guide above)

The fan works whenever the sun shines
The vent itself always works as a passive vent 24 hours a day, rain or shine

8" diameter vent with 50.265 sq inch of net free vent area

Original solar panel: 25 year-rated solar panel (3 Watt)

Mega solar panel: 25 year-rated solar panel (5 Watt)

50,000 hour-rated fan (15 years at 9 hrs/day)

Original fan: 2900 rpm/35.2 cfm two-ball bearing fan

Mega fan: 2600 rpm/96 cfm two-ball bearing fan

Patent-pending fan mount (made of 0.063" Aluminum 5052-H32)

Base flashing custom designed for Conex® brand shipping containers with 3.5" & 6.5" ribs for leak-proof installation

1/8

" mesh screen — pest-free

color: galvanized or white
Military Use of Shipping Containers
Solar RoofBlaster vents and LightBlaster tubular skylights have been installed on many military containers, sheds and other temporary military buildings.
These temporary work and storage stations don't have to have unbearable working conditions inside of them. Our Solar RoofBlasters vents for Conex Containers bring in fresh, cooler air and expel the hot air allowing air to circulate throughout the container anytime the sun is shining. The fresh air will also help remove odors, gas fumes, etc from smelling up the container. Proper ventilation helps mediate moisture buildup through uniform air movement.
With our
LightBlaster tubular skylights
, you can light up the container with natural light at no cost any time the sun is shining.
Take a proactive approach to improving the military containers on your base.
Trust us, you won't regret it. No one should have to work inside a sauna. Let us help you convert your containers to a workable space.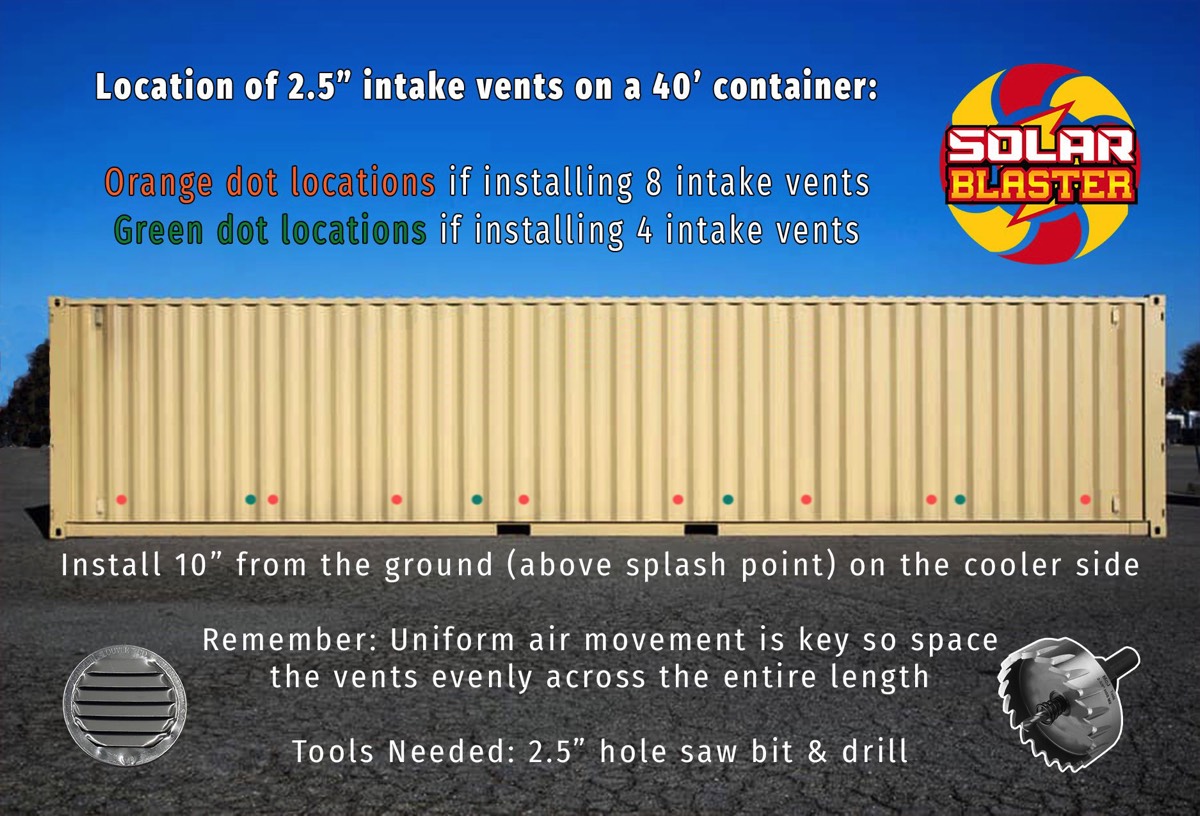 FREE U.S. SHIPPING ON ALL SOLAR BLASTER PRODUCTS*
to the lower 48 states only (limited time).
*ECOMAX is not a Solar Blaster product and does not qualify for free shipping.
Alaska and Hawaii orders need to call their orders in so shipping can be arranged: 480-747-7097
History & Development of the Conex Storage Containers
Courtesy of https://quickboxcontainers.com/History_of_the_Conex.htm and the U.S. Army Transportation Museum.
OTHER PRODUCTS WE OFFER FOR CONEX SHIPPING CONTAINERS
TRADEMARKS: Conex products referenced herein are either trademarks or registered trademarks of Conex. Other product and company names mentioned herein may be trademarks of their respective owners.