VentBlaster - All Metal Exhaust Vent
Exhaust vent for your home, shed, or other shingled roof buildings. Includes:
• 8" diameter vent with 50.265 sq inch of net free vent area
• flashing: 14 gauge spun aluminum, no seam flashing base with pre-drilled holes
• hood: 24 gauge steel
• colors: powdered-coated (not painted) black or brown
• 5 fasteners provided for quick installation (1.75" electrogalvanzied ringed nails with neoprene washer)
•
⅛
" mesh screen — pest-free
• Size: 16.25"x16.25"x8.5"

Colors: Black, Brown, Galvanized

MSRP: $64.99
ON SALE NOW
VentBlaster

These days all attic vents are installed according to specific building codes that involve calculating your attic's space to figure out the amount of intake and outlet ventilation required.

Our VentBlaster vents are built to withstand the harsh UV light and will not break down like plastic vents do over time. Your roof's surface can reach oven temperatures so make sure you use vents that can withstand those hot temperatures and properly protect the integrity of your roof and your home. The last thing you want is for your plastic exhaust vents to become brittle and deteriorate enough that rain water comes pouring into your home's attic. METAL vents are the way to go.

If down the line you decide you want to go solar, we will be offering a Retrofit Kit that you can buy and install on each of your VentBlasters — effectively turning them into our Solar RoofBlaster product.
Passive exhaust vent that ventilates a home's attic, shed or garage through convection

Helps remove hot, moist air

Helps promotes uniform air movement throughout the vented space

Helps minimize mold/mildew growth

Helps prevent moist wood that can lead to rot and pest infestations

Improves your living space by removing the hot, oven-like temperatures in a home's attic

Makes a shed or garage into a cooler work environment

Improves the air quality in sheds and other work spaces by promoting fresh air movement

Prevents tools from rusting in sheds and garages because moist air is being removed

Can even be installed on a dog house to prevent heat buildup on those hot summer days

Easily installation (install it just like any other roof vent)
These vents always work 24 hours a day, rain or shine

8" diameter vent with 50.265 sq inch of net free vent area

16.25" base flashing allowing for better weatherproofing for leak-proof installation

⅛

" mesh screen — pest-free

colors: black, brown, galvanized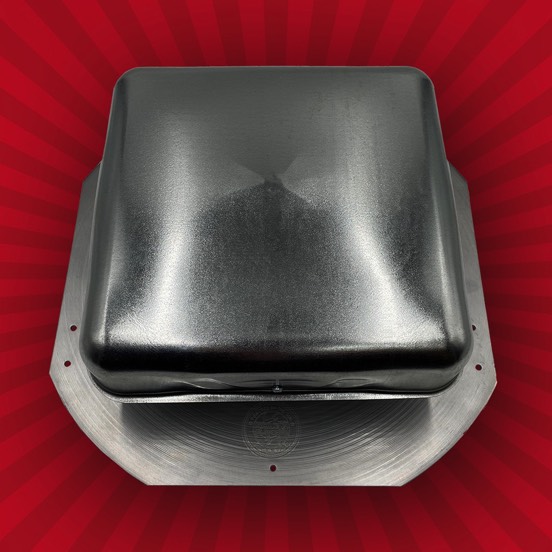 How many vents will you need on your house?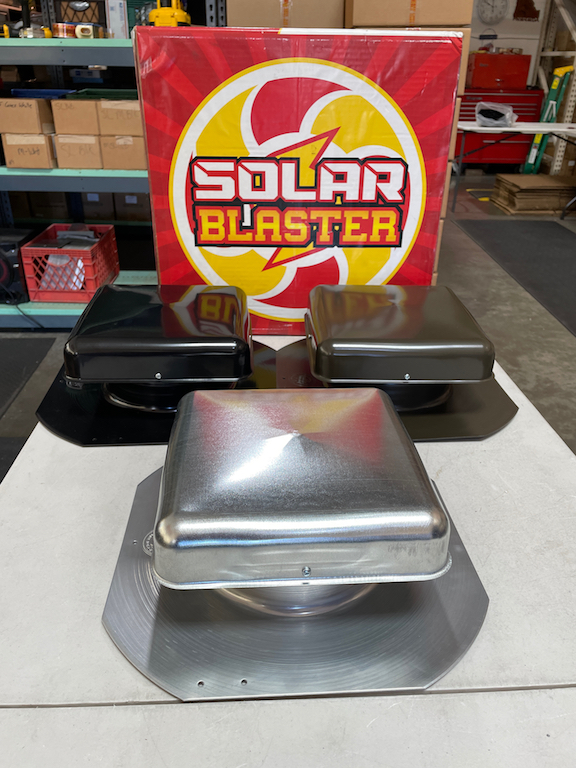 FREE U.S. SHIPPING ON ALL SOLAR BLASTER PRODUCTS*
to the lower 48 states only (limited time).
*ECOMAX is not a Solar Blaster product and does not qualify for free shipping.
Alaska and Hawaii orders need to call their orders in so shipping can be arranged: 480-747-7097