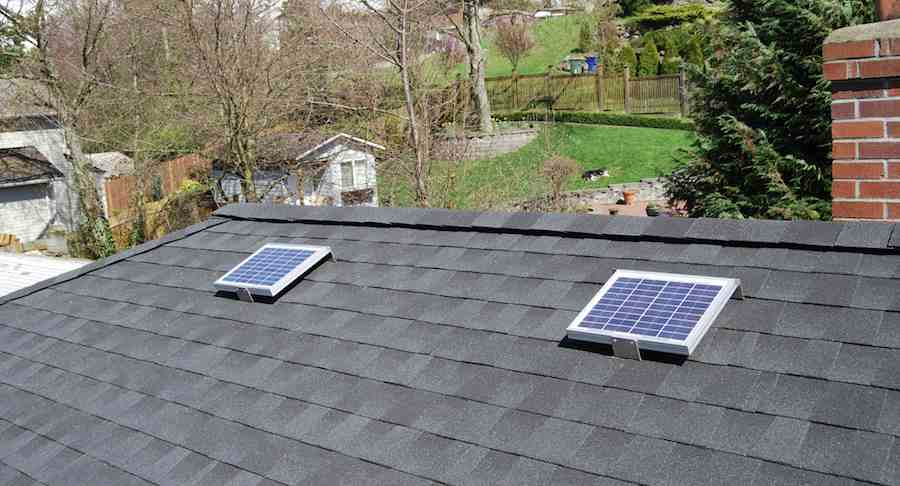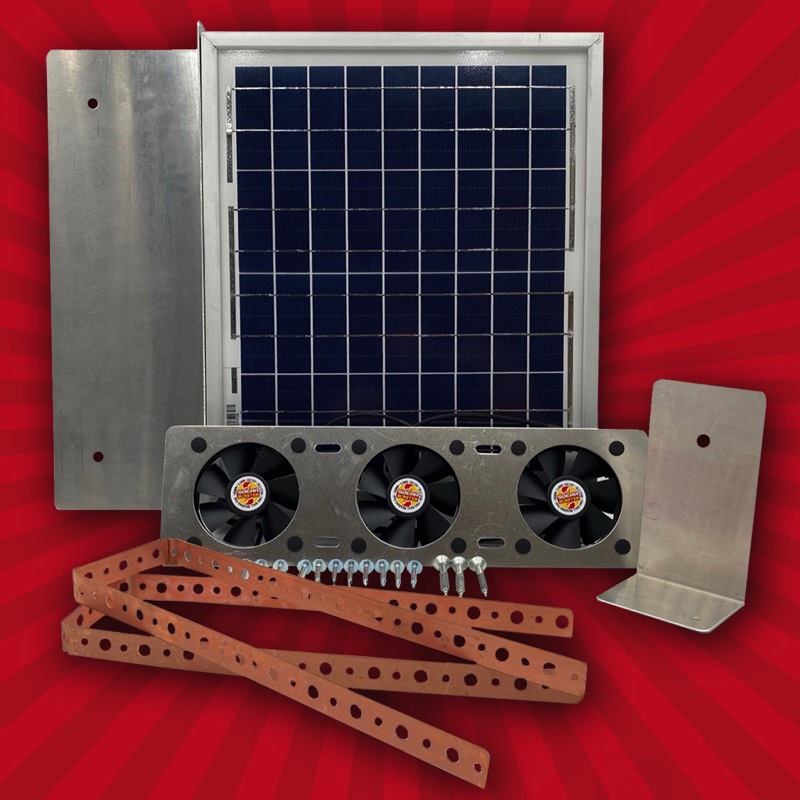 Solar RidgeBlaster™ comes with the following:
10W solar panel
three 2900rpm/35.2cfm two-ball bearing fan
patent-pending fan mount
80 gauge, marine-grade aluminum lower flashing that secures under the metal ridge cover
no-maintenance roofing flashings
two copper-clad mounting brackets
packet of mounting screws and zip ties to neatly fasten wire
install one vent every 8-10' across the ridge
installation instructions
16' Extension Switch Cable
If your application of this product requires a longer cable than the one included, we are now offering a 16' extension cable that can be connected to a switch. This cable includes a 7ft long section that runs from the fan to the solar panel and a second 16ft long section that runs from the panel to a switch. Wire it to a switch of your choosing (not included).
This accessory works alongside the Solar RidgeBlaster and Metal RidgeBlaster only.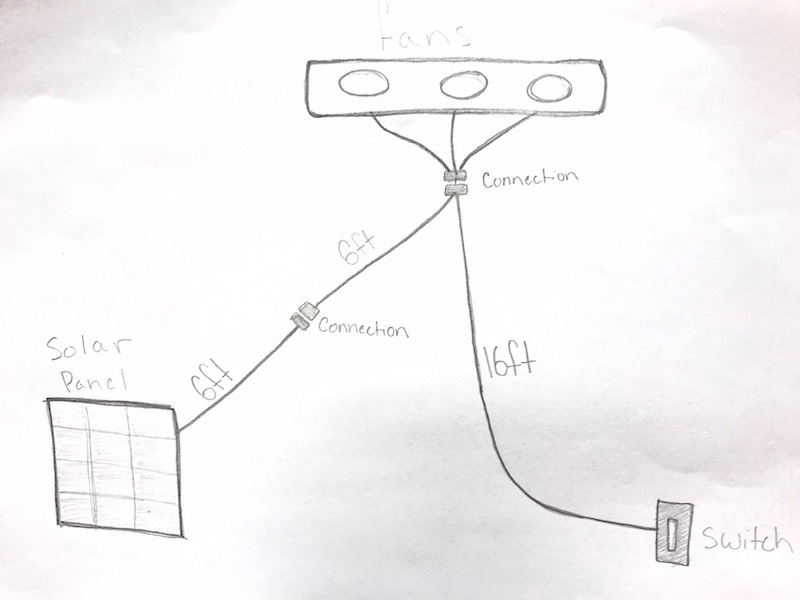 Solar RidgeBlaster® 64-inch Extension Cable allows you to install the solar panel a bit further away from the fan unit.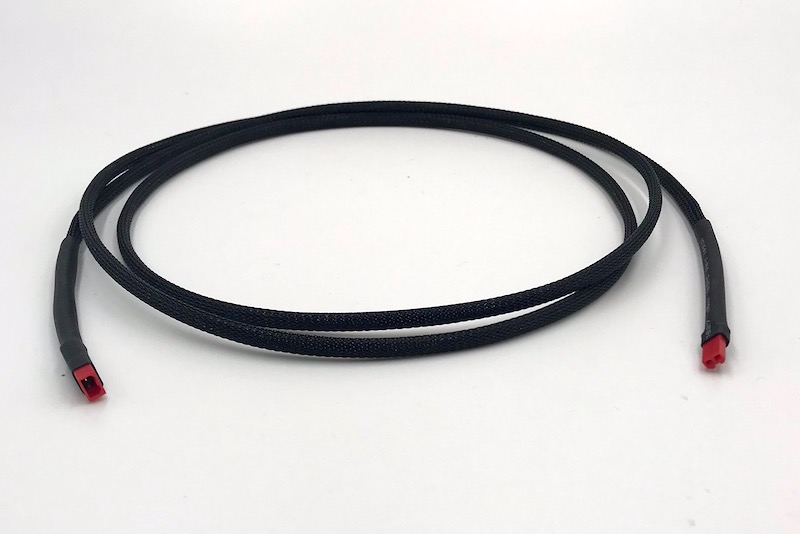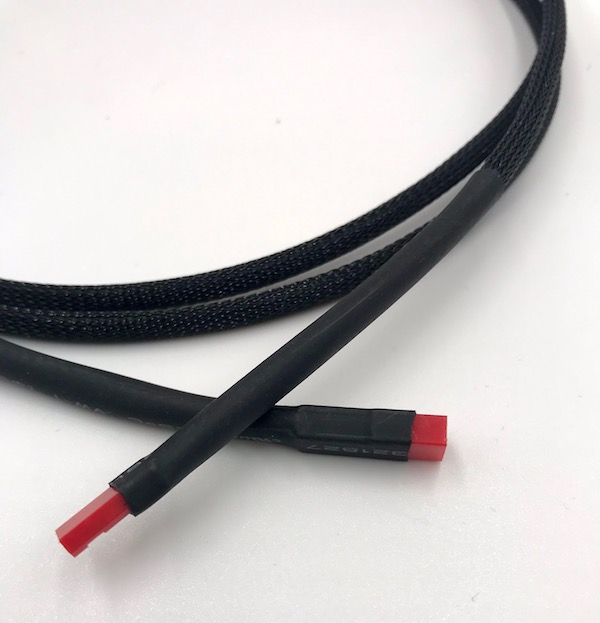 From a 30-year Roofing veteran that understands the sciences of roof ventilation and I can say that this is the most ingenuitive breakthrough that you could possibly come up with... It works in conjunction with the already existing ridge vent giving you maximum air flow reducing energy cost in the summer and removing moisture from the heat transfer condensation that causes the ugly mold growth during the winter.
Jon Mitchell
Get the maximum benefit from ridge ventilation by adding our Solar RidgeBlaster roof fans and solar panels for a clean and green solution to boost your attic ventilation. Remove hot attic air from the highest point even more effectively with Solar RidgeBlaster! Ridge venting is one of many passive roof vent options that you can choose from. But like all passive roof vents, they only work when there is a breeze.
So what happens on those stifling, hot days where there is no air movement?
Literally, you end up with an oven on top of your living space.
How does a Solar RidgeBlaster™ prevent an attic from turning into an oven?
A Solar RidgeBlaster
®
roof vent turns that passive vent into a vent that works regardless of lack of wind and even works on overcast days. Your attic's heat will be pulled out much more efficiently. So while the sun is the source of all your attic heat, it can also be put to work in pulling that hot air and moisture out. This solution is a very economical way for you to solve your attic heat problem.
How do you install a Solar RidgeBlaster™?
Here's both a video and an installation guide showing how a professional roofer can install this product on your roof:
Installation Video
Here is a video of Jon from Northern Star Roofing Adventures installing a Solar RidgeBlaster.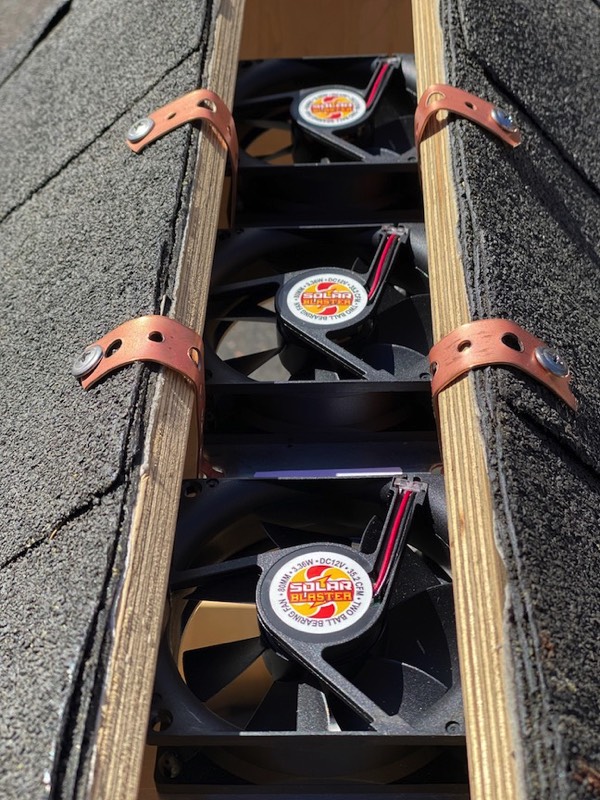 Solar-powered fan vent that ventilates a home's attic, shed or garage with ridge vents

Added advantage over other vents because ridge vents exhaust air at the highest point

Helps remove hot, moist air faster than a passive ridge vent alone

Helps promotes uniform air movement throughout the vented space

Helps minimize mold/mildew growth

Helps prevent moist wood that can lead to rot and pest infestations

Improves your living space by removing the hot, oven-like temperatures in a home's attic

Makes a shed or garage into a cooler work environment

Improves the air quality in sheds and other work spaces by promoting fresh air movement

Prevents tools from rusting in sheds and garages because moist air is being removed
The three fan configuration allows the fans to turn on individually and gradually as the sun rises and produces more and more solar energy.

Easily installation (download the installation instructions above)
The fans work whenever the sun shines

The ridge vent itself always works as a passive vent 24 hours a day, rain or shine

25 year-rated solar panel (10 Watt)

Three 50,000 hour-rated fans (15 years at 9 hrs/day)

2900 rpm / 35.2 cfm two-ball bearing fans

Patent-pending fan mount (made of 0.063" Aluminum 5052-H32) that fits right below the ridge vent opening

Two copper-clad mounting brackets
FREE U.S. SHIPPING ON ALL SOLAR BLASTER PRODUCTS*
to the lower 48 states only (limited time).
*ECOMAX is not a Solar Blaster product and does not qualify for free shipping.
Alaska and Hawaii orders need to call their orders in so shipping can be arranged: 480-747-7097
Introducing our brand new
Solar Metal RidgeBlaster
™ roof fan and solar panel for boosting your attic ventilation on metal roofs. It is a perfect application for sheds, garages and even homes with metal roofs. Remove hot attic air from the highest point even more effectively with Solar metal RidgeBlaster™!
So how does this attach to a metal roof?
Glad you asked. Before installing the final ridge vent cover, you attach the floating footprint flashing under the ridge vent cover with the fan attached using the copper-clad mounting brackets right inside the ridge vent opening. Then connect the two ends of wire to the panel and that's it. Our RidgeBlaster products include maintenance-free flashings. This features a very clean-looking installation application.
Can this be installed on a metal roof that already has ridge venting?
Ideally, these vents and fans should be installed before the ridge vent cover is installed. But if you know how to remove your ridge vent cover, then by all means, you will certainly be able to install our Solar metal RidgeBlaster on your roof.
For more information on the Solar Metal RidgeBlaster.