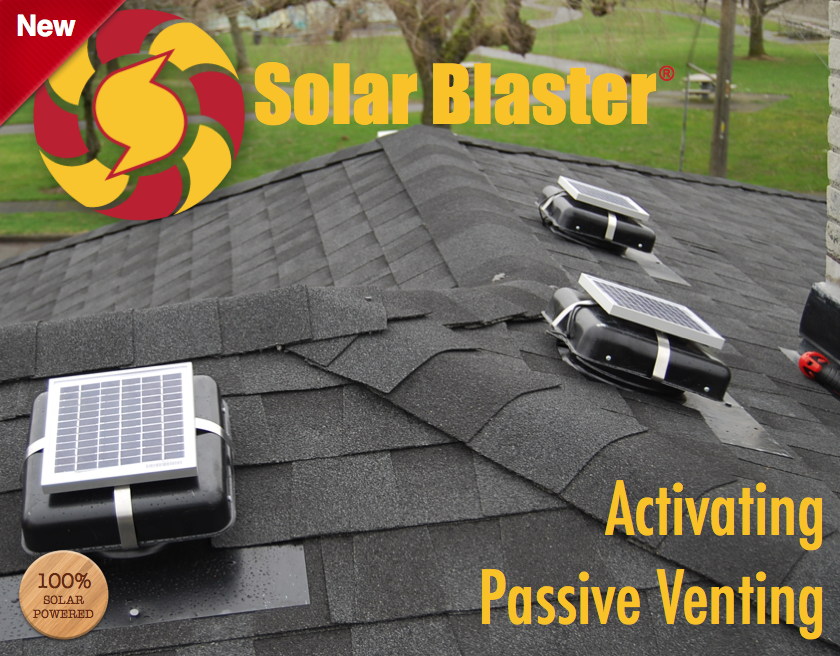 Solar ROOFblaster™ Preinstalled on a Vent
These days all attic vents are installed according to specific building codes that involve calculating your attic's space to figure out the amount of intake and outlet ventilation required.
If you've had your roof replaced in the last 10 years by a reputable roofer, then your roof has the proper number of vents. But those vents are all passive ventilation that only work WHEN there is wind blowing up through your intake vents.
Solar ROOFblaster™ roof vent fans help move that heated air out of your attic, even on overcast, cloudy days.
Size: 17"x17"x5
⅝
"
NOTE: This product used to be referred to as our Solar RVOblaster™. But since "RVO" was only used by our vent manufacturer we decided a name change was in order.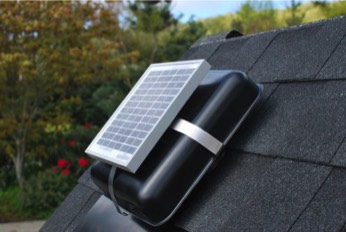 How many vents will you need on your house?
Solar-powered fan vent that ventilates a home's attic, shed or garage

Helps remove hot, moist air faster than a passive vent alone

Helps promotes uniform air movement throughout the vented space

Helps minimize mold/mildew growth

Helps prevent moist wood that can lead to rot and pest infestations

Improves your living space by removing the hot, oven-like temperatures in a home's attic

Makes a shed or garage into a cooler work environment

Improves the air quality in sheds and other work spaces by promoting fresh air movement

Prevents tools from rusting in sheds and garages because moist air is being removed

Can even be installed on a dog house to prevent heat buildup on those hot summer days

Easily installation (install it just like any other roof vent)

The fan works whenever the sun shines
The vent itself always works as a passive vent 24 hours a day, rain or shine

8" diameter vent with 50.265 sq inch of net free vent area

25 year-rated solar panel (3 Watt)

50,000 hour-rated fan (15 years at 9 hrs/day)

2700 rpm/39 cfm two-ball bearing fan

Patent-pending fan mount which snaps into 8" can vents

4 stainless steel clips to mount the panel

17" base flashing allowing for better weatherproofing for leak-proof installation

⅛

" mesh screen — pest-free

colors: black, brown
Solar ROOFblaster™ with Vent comes with the following:
8" can metal vent (comes in various colors)
everything in the Solar ROOFblaster™ Kit except the Installation instructions (install this vent just like you would any other roof vent)
ROOFblaster™ with Brown Vent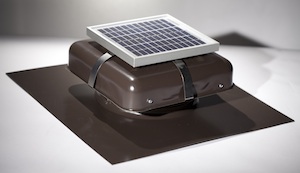 MSRP: $124.99
ON SALE: $109.99
ROOFblaster™ with White Vent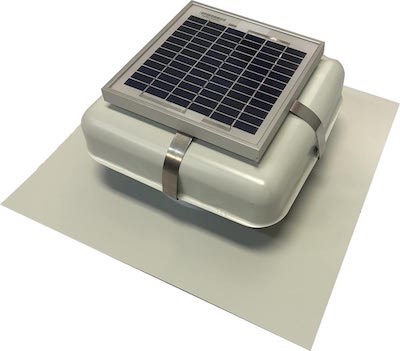 So where else can I use these cool vents aside from my home?
A Solar ROOFblaster vent is a perfect solar-powered ventilation solution for your garden shed, utility shed, storage shed or even your garage.

Stop working in unbearable conditions when you can have fresh air circulating in your shed or garage whenever the sun is shining. Plus, keep those gas fumes from smelling up your utility shed.

Take a proactive approach to improving your garden shed's ventilation. It is an easy install.

Trust us, you won't regret it. Sheds and garages should not be saunas. Let us help you convert it back to a workable space.
That's right, Solar Blaster can even come to the aid of your dog house.

No one wants their pet to suffer in the unbearable summer heat so we build them their very own dog house. But unlike your own home, a dog house will heat up even more because it lacks any sort of insulation.

Eliminate that heat by the power of the sun! Truly give your pets a shady spot to go during those hot afternoons when you're at work.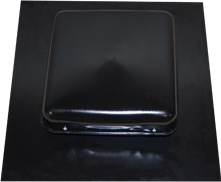 8" Metal Can Roof Vents

This product does not come with any Solar Blaster® products. It is simply a metal roof vent that can be order in various colors.