Manufactured by Stoett Industries
NEW

Solar Vent Cover for RVs and Trailers
BACK IN STOCK — LIMITED SUPPLY
The RV Sunvent is the first solar-powered vent cover for RVs and trailers. This vent cover not only keeps rain out while your RV's vent is open, but the solar-powered fans help boost ventilation in your RV to remove moisture, hot air and stagnant air. We have partnered with Stoett Industries to re-manufacture our original designed Solar RVblaster product. It is the same great quality product with a new name.
MSRP: $395.00

ON SALE: $330 while supplies last
ATTIC VENTILATION SOLUTIONS
If your home has inadequate attic ventilation, Solar Blaster's solar-powered fans for roof vents and attics are the ideal solution for your home. Hot and moist attics lead to all kinds of trouble. Solar Blaster
®
has a
perfect solution
to prolong your roof and make your living space more comfortable.
Solar RVOblaster™
is a solar-powered fan kit that can be retro-fitted onto your existing roof vent saving you a lot of money. All of our solar-powered roof vent products are a significant savings over other roof venting products on the market.
MSRP: $99.99-124.99

ON SALE $75.97-99.97
Get the maximum benefit from ridge ventilation by adding our
Solar RIDGEblaster
™ fans for a clean and green solution to proper attic ventilation. Remove hot attic air from the highest point even more effectively with Solar RIDGEblaster™!
MSRP: $249.99

ON SALE $199.97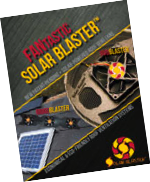 Download a brochure of our products: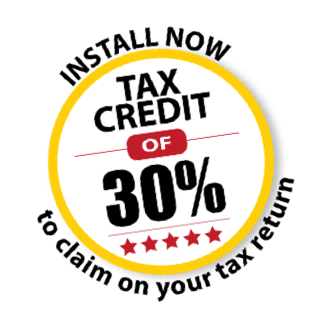 Download a Certification Tax Credit: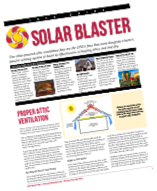 Download our Guide to Proper Attic Ventilation: